Ever heard the saying, "It's not what you know. But who you know"?
The people you connect with online will transform your business in less time and with less hard work.
It's with networking that a newbie writer gets featured on popular marketing blogs like QuickSprout and Kissmetrics.
It's how a small-town arts & crafts mom gets sent PR kits from Better Homes and Gardens Magazine.
Internet and social media has made it so much easier to connect with powerful people that we could never meet in-person.
As a shy work-at-home freelance writer, I connected with awesome people around the world due to social media and online job boards:
I skyped with a close friend of Supermodel Doutzen Kroes.

Interned for two super-smart software engineers in the Bay Area who got accepted into a famous startup incubator.

Had billionaire Ben Horowitz like one of my tweets. And marketing Influencer, Ann Handley, promoted one of my articles on Twitter.
But the best experience was working with the CEO of Chicks Inc, Nicole Matthews. Because she gave this dewy browned eyed girl creative control over her content, I was able to gain experience and grow my own clientele.
If my boring basic self can connect with industry influencers and celebrities, then so can you!
And I'm showing you how. You better get a sandwich and a soda because I'm going to reveal all of the secrets to networking online.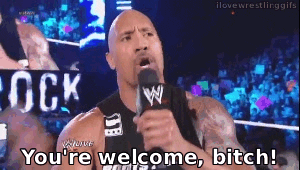 Jab, Jab, Jab, Right Hook
This guide was inspired by Gary Vaynerchuk's video about networking on Instagram. On his YouTube show, people always ask him, "How can I  connect with Influencers? How can I get a famous person's attention? How can I…". Tired of the BS, he told him what's good:
Watch his entire video HERE.
On his blog, he explained it again, "The key is to connect first, provide value, and THEN given the right opportunity presents itself, ASK." 
Because here's the truth we business people and marketers don't want to admit: Nobody likes pushy salespeople, not even you.
But we keep acting like them. We ask Influencers to promote our stuff in a tone that benefits us instead of them. Our desperation and lack of empathy reek through our messages. Then we wonder why no one accepts our offers.
Ask yourself if you would reply to the DM's and emails that you send to other people. If not, then you need a networking makeover by following these 13 principles to networking netiquette.
How to Find People and Increase Responses
Before you start getting dirty with networking, you must have a plan! Stop wasting time by building a list of perfect people that will most likely benefit and respond to you. Here are my best outreach secrets:
1. Identify Your Purpose
Your networking efforts shouldn't be aimless. Ask yourself, "Why do I want to start networking? Who should I connect with? How can they help me? How can I help them?"
Then summarize your purpose in one sentence. Here are some examples:
"I want to find blogs and websites that will promote my products."
"I want to connect with industry leaders who can mentor and coach me."
"I need to find fellow bloggers to collaborate with on my next project."
Here's mine:
"I want to network with editors, creative or marketing directors, and fellow writers of popular online brands who can hire me in the future."
2. Have A List of Specific People
You MUST be very selective with your prospecting.
For example, if you're selling baby clothes, "networking with small bloggers" is not enough. Decide on the specific type of blogger you want to connect with.
Mommy bloggers will be your ideal prospects. Are most of your customers local? Then look for mommy bloggers + your local area.
Create a set of criterias that a prospect or influencer must have before you network. Like the following:
Follower account

Employee size

Average engagement per post

Location

Industry or Niche

Or whatever requirement that will better your goals
These criterias are important because you can filter your search results with relevant keywords and hashtags.
To find more ideal prospects, use keywords on other social media. Here are walkthroughs on finding people with the keyword "mom bloggers".
Pinterest
LinkedIn
Youtube
Google
3. Have a Number Goal, then Create Habits
Transform your purpose into an action plan by establishing goals. With numbers, you will be forced to act on on them. Try completing this challenge:
Collect the social media profiles of at least 100 people. No less! You must message them within 30 days from today or when you're done with your list.
With the tutorials I'll be sharing later, this will be easy.
Give yourself a deadline. Here are some examples:
"I need to email 100 marketing professionals to be featured on my podcast by January 1st."

"I need to tweet 100 Latina beauty bloggers to promote my latest event in three months."

"I need to DM 100 potential B2B clients to buy my $500 service by September 3rd."
Accomplish your goals with habits. 100 people in 30 days seem pretty intimidating. To make it easier, turn networking into a routine by dividing tasks with time.
Tweeting 100 people in 30 days = Tweeting 25 people every week OR about 4 people a day.
Doesn't seem so hard now, right?
With this plan, your networking pipeline will always be full. Soon you won't have to think too much about outreaching.
4. Create a Spreadsheet or CRM
Now that you know who and how many people you'll target, you need to track their information and engagement in a spreadsheet or social media CRM.
I use Google Docs to record names, social media @'s, email addresses, notes, and responses. Here's a screenshot below:
But if you don't like this, then use paid online tools like Nimble and Hootesuite to record your prospects' info. Sign up to our newsletter and I'll teach you how!
5. Pay Attention to Engagement
When you find an ideal prospect, it's important to identify the best social media platform that they engage with to increase chances of getting a response.
Look at their profiles and ask: When was the last time they posted or engaged with their followers? Do they post regularly? Do their fans mention them a lot?
A quick trick is to look at their last five posts. Find the date and how long ago they posted. And look if they reply to anybody. If they're not posting consistently, then they're not active on that channel.
Switch to the channel that they do engage with the most. Use Google or the same @ name to find their other accounts. Here's an example with Facebook's Sheryl Sandberg:
If they're not active on social media at all, use email as a last resort. In part 2, I explain the basics of a good email.
6. Have Value to Offer
Influencers get asked to do shit all the time. And they ignore 90% of them. Including my emails!
And it's because I was ignorant to Gary V's advice of providing value first:
Things started to change when I become more specific and helpful. When I was selling email design services, I sent a cold email campaign to 20 high-profile online stores. Two of them replied back to me. And both of them had a million followers on Instagram. Here's the steps I took:
I subscribed to their email newsletters. Took notes on what was wrong.

Brought up their social media page or current email software

Explained a few ways they could improve

Offered them a free email audit and design.
Here's the email:
However, to be transparent, I didn't close the deal because I changed my services soon after. I no longer wanted to design.
But my point still stands!
The best values are:
Relevant – is related to who they are and what they do
Helpful – improves their life or business in someway
Low-Risk – costs little to nothing on the person's part
Supported – proven by a portfolio, case study, or past experience
So before you ask your contact to commit to something, offer them some value.  Because at the end of the day, people desires what benefits them.
7. Find a Conversation Starter
Prove to a new contact that you're not another spammer by showing off your research. Whatever information or insights you gathered will better soft-sell your offer – like my cold email.
First, do a content audit. Look through their feed to find anything special about them. It can be something professional like their portfolio or personal like their love for dogs.
Look at their websites, youtube channel, marketing materials, and other social media accounts to have a better idea of who they are and what they like.
I know these efforts seem tedious but they're worth it.
People know when you're being fake. They can identify spam and automatons from a mile away. (And If you're going to use automatons, please make them look natural).
8. Your Profile Better Be On Point!
Make a great first impression with a great profile page. It's the first place prospects and Influencers will learn more about you.
So before you start networking, make sure all of your social media accounts are well put together. It should have enough content to attract the people you want to work with.
SO TAKE YOUR ACCOUNT OFF PRIVATE! It's rude to the people you connect with. Don't forget to delete any embarrassing or offensive posts.
Upgrade your profiles by posting pretty images and copy that best speaks to your target prospects.
Here are examples of store or ecommerce businesses:
This slideshow requires JavaScript.
Here are examples of service and info-product businesses:
This slideshow requires JavaScript.
9. Don't Ignore Micro-Influencers, Famous Friends, or Your Followers
The most powerful people who can transform your business don't have hundreds of thousands of followers. Gary calls them micro-influencers. But I call them juicy low-hanging fruit!
Gary explains, "Even if the account only has 190 followers, but every single post…has 60 likes and 20 comments, REACH OUT… If the relationship between their following and their engagement is strong, that means that they have their audience's ATTENTION."
Or in other words, if a person has lesser followers but better-then-average engagement. TALK TO THEM! Usually, they're more likely to respond and can open doors to bigger opportunities.
Because here's the truth, follower count don't mean much expect for potential reach. It's used as a status symbol. I'm spilling the tea right now: the most resourceful and influential people in the world do not have hundreds of thousands of followers on Instagram or social media.
Even Instagram models with multi-million followers don't have the power that lesser known tycoons have.
Rob Gough is a great example of this. Yes, he's verified on Instagram but this multi-millionaire isn't known to the main public. But he has worked with many famous brands and even helped his girlfriend grow millions in followers. Here's the receipts:
So don't be bougie! You had only 100 followers once.
Also, don't sleep on lesser known friends and co-workers of famous people. They can connect you with bigger influencers. You can find them by looking at tags and credits on posts by or including Influencers.
But be careful, be super respectful towards them. You don't want them to talk shit about you to their popular friends.
But most importantly, don't ignore your followers. Sometimes the people who will give you the most opportunities are the people who have already shown interest in you. They're hot leads and would like a response from you. Turn them into your personal Influencers through word-of mouth.
Popular brands feature their followers all the time.
10. Share their Content like a MothaFucka
To get on an influencer's radar, you need to share, like, and comment on their work.
This shows you give a shit about them. Hell, this might even get them to @ you first.
Better yet, share content they were featured in. Was your ideal prospect invited to a podcast or video show? Share it on social media! They'll appreciate the exposure. Here's an example with Naomi Dunford, the founder of IttyBiz:
Tweet them that you loved their content. Here's an example:
11. Talk Like a Human and Act Like a Friend
Online relationships are very much similar to real life relationships. Some are quick to develop while others take time. Treat the people you're connecting with like they're your homie. So do this:
Have a casual tone. It's social media, not your workplace.

Don't focus on yourself. Be a good listener and ask questions. People enjoy talking about themselves.

Don't start with hard-selling. Nurture the relationship by discussing information that you researched.

Don't forget to offer your value!
12. Take the Conversion Off Social Media Quick
Networking on Twitter and Instagram is great, but communicating with email or Skype is better. It's more personal, and you can share more content like files and links.
If you're confident about your connection with the influencer, ask for their email, phone number, or Skype ID. With these, you'll better sell yourself and your ultimate offer.
I've closed a lot of jobs by using email, phone and Skype. In part 2, I'll explain how to use email to get a prospect's attention.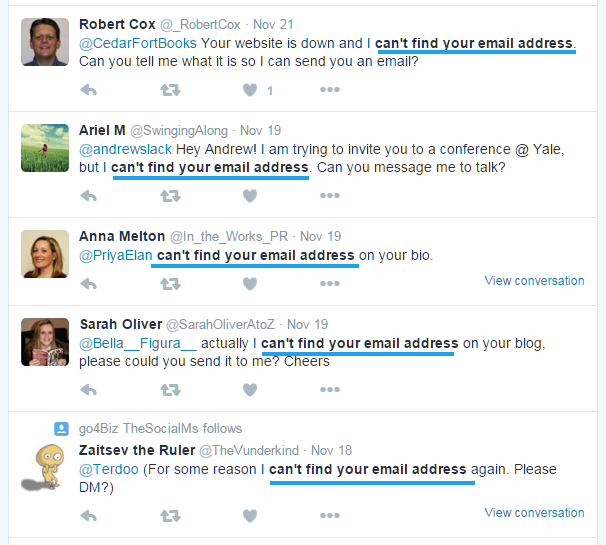 13. Don't Be Afraid to Follow-Up + Don't Give Up!
It's easy to feel personally rejected when an influencer or a prospect doesn't respond. That's fine. I get rejected all the time.
That's why you should connect with at least 100 people. Expect at least 10 people to respond.
But just because no one responds on your first try doesn't mean they won't reply on your 3rd, 5th, or 7th try.
Most people are too busy or forget to respond. I had people message me weeks after my first tweet.
So please don't feel discouraged. I hope this inspires you:
That's the End for Now…
So that's the end of Part 1 of our Social Media Networking guide. With these 13 principles, you won't look like another spammer and your respond rate will grow.
Next, I'm going you to show you my secrets to finding prospects. You'll fill up your list of 100 people in no time. So tune in later this week!